The Jung Companies have been owned and operated by the Jung family since 1977. Bruce and Jon grew up working with their parents in the business and went on to raise their own children around the shop and office. The third generation of the Jung family is currently involved in the company as they prepare to carry on the family tradition.
The Jung Management team takes pride in the family-oriented culture and considers the employees, many of whom have been with Jung Companies for 10+ years, to be members of the family.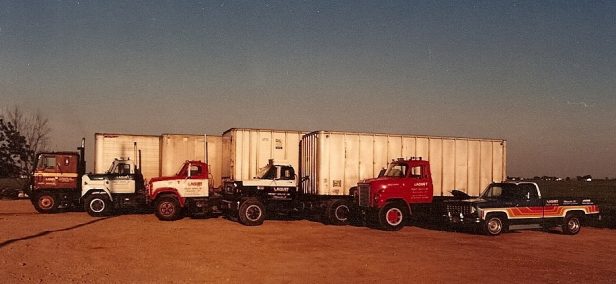 1977: Donald and Phyllis Jung bought a two-truck LTL carrier by the name of Laquet Freight Service (originated in the 1940s).
1998: Started warehouse operations in leased building in Belleville, IL.
2000: Ownership of Jung Truck Service was purchased by Bruce Jung and Jon Jung.
2000: Jung Warehousing, Inc. incorporated and built a new warehouse in Mascoutah, IL.
2001: Jung Logistics, Inc. was established.
2002: Jung Warehousing purchased a warehouse in Mt. Vernon, IL.
2009: Jung Truck Service Container Yard opened in East Saint Louis, IL.
2009: Jung Transport, LLC was established.
2014: Jung Warehousing opened a 375,000 sq ft warehouse in Mt. Vernon.